This statement was originally published on meaa.org on 18 February 2021.
Facebook's move to block sharing of content from Australian news media outlets will encourage the spread of misinformation at a time when factual and credible journalism is more important than ever.
Thursday's decision by Facebook to unilaterally ban news on hundreds of Australian pages – including those managed by government agencies, health bodies and not-for-profits – is the desperate act of a company with too much power that thinks it is beyond the reach of any government.Those caught up in the ban include many small and independent media outlets, including community radio stations, freelancers, and niche publications.
Facebook is acting in retaliation to the proposed News Media Bargaining Code, which would force it and Google to compensate media outlets for content that until now has been published on their platforms for free.
In the 2018-19 financial year, Facebook and Google earned more than $5 billion in digital advertising in Australia, while media companies are struggling to keep journalists employed and newsrooms open.
Australian media outlets have had no choice but to publish on Facebook because it has an audience of more than 14 million in Australia.
Both Facebook and Google have been able to monetise the traffic generated by news content on their sites by collecting vast amounts of data about their users, and then digital advertising space.
So not only have they grabbed the lion's share of the digital advertising market, depriving media outlets of revenue to fund journalism, but they do not contribute to the costs of the news content that brings traffic to Facebook and Google in the first place.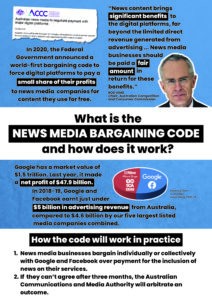 The News Media Bargaining Code seeks to redress this imbalance by bringing the digital platforms and media organisations together to negotiate commercial compensation for this content. Only if negotiations are unsuccessful does the prospect of arbitration come into play.
The News Media Bargaining Code was a recommendation of an inquiry by the Australian Competition and Consumer Commission but it alone won't ensure the viability of Australian media.
For Australia to have a sustainable media ecosystem, there needs to be a holistic suite of reforms, ranging from tax concessions to direct support to small and independent start-ups.
Nor is the News Media Bargaining Code legislation perfect. MEAA has consistently highlighted improvements that can be made to the draft legislation, with the overall aim of ensuring that any monies distributed go directly to the production of journalistic content and are not sucked up by executive salaries or shareholder dividends.
We have advocated strongly that the funds raised should be used to plug gaps and promote media ownership diversity, and especially be used to support regional and community journalism, new entrants to the market, freelancers, and the national newswire, AAP.
After also threatening to pull the pin on its Australian search engine, Google has now begun negotiating content agreements with publishers and broadcasters.
But Facebook is abusing its dominant position and is holding Australian news agencies, advertisers and consumers to ransom with this cowardly response.
This dispute has been portrayed as a battle of the titans, with the federal government and media companies on one side, and Facebook and Google on the other, and billions of dollars at stake.
But let's remember that the most important issue at stake here is the future of Australian journalism. A weakened media is unhealthy for our democracy.
The News Media Bargaining Code isn't a silver bullet, but it is a critical reform to put Australian journalism on a sustainable footing.
The post Australia: 'Facebook move reinforces need for a News Media Bargaining Code' appeared first on IFEX.
Source: MEDIA FEED